Rosedale Two Way Spanish Immersion
Elementary School
Home of the Raccoons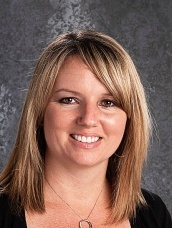 100 Oak Street, Chico, CA 95928
Phone: 530-891-3104
Fax: 530- 891-3164

Jo Ann Bettencourt, Principal
Tami Medearis, Office Manager
Maria Beas, Office Assistant - Attendance

Enrollment: 589
Constructed: 1953
School Colors: Red and Black
School Mascot: Raccoons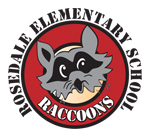 Message from the Principal
Jo Ann Bettencourt - Principal
Our teacher/staff appreciation week was wonderful! Thank you to all the parents who donated food items, gift cards or sent your child in with cards or flowers. We also had parents help with set up and clean up. Thank you to our PTA for showering our teachers with love! Special thanks to Mea Bickel and Ana Nava for helping coordinate this wonderful week.
We have something new and very exciting headed our way during the summer. It is Rosedale Junior Scientist Summer Camp! This camp will be June 29 to July 18 (Monday through Thursday) from 1:30 to 4:30 p.m. Students will explore topics such as: Our Bodies, the Natural World, the Solar System, Physics, States of Matter, Engineering and much more! Students in grades 2 through 5 are welcome to apply but unfortunately enrollment is limited to only 36 students. Be sure to get your applications turned in ASAP as it's first come first serve and will be sent home ASAP. There is no charge for this wonderful program It's encouraged that students who attend wear sunscreen and hats and that they attend every day. For more information please contact Kate Smith by phone or email: 891-3107 [email protected]. Please note there will be no camp on July 4 and 5th.
Jo Ann Bettencourt
Thank you Mom's
We would like to thank everyone who ate at Mom's restaurant during the month of April and those who purchased the 3+2+2 breakfast. Rosedale was the recipient of a check for $2144. As schools are already stretched, every dollar counts and makes a huge difference. Thanks again to Mom's Restaurant. We appreciate your ongoing support of our schools.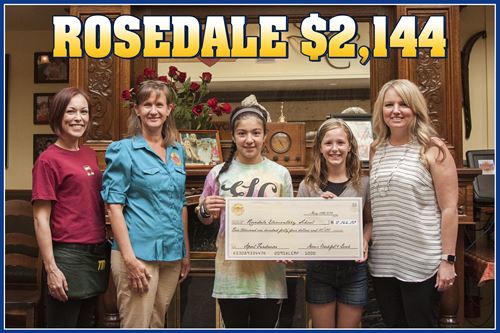 Multicultural Night
~Thank you to everyone who made this year's Multicultural Night a success. Special thanks go out to everyone who helped make decorations and the Kinslows and the Kraatzs for setting them up. Also, thanks to those who stayed to clean up. Thank you to the volunteers, friends of Maestra Grimaldo, who helped with sales. Thank you to Tacos Tonaya for the tacos and burritos. Thank you to Roy Tadeo for running the music--we're going to miss you next year! Thank you to the other fourth grade teachers Don Collins and Steve Salas who helped organize the event and the evening. Also, a special thank you to our co-emcees of the evening: Maria Beas, Dolores Alaniz, and Tino Nava. You provide that special flair every year that adds so much to the evening!
Thank You Street Smart
Bike to School Week festivities ended with a visitor - Street Smart. Deanna Reed the Community Outreach Coordinator at Enloe Medical Center came with Street Smart. Deanna said, "It was a great way for us to reinforce the "safety first" message, praising kids for wearing their helmets or reminding them to do so if they happened not to that morning." They were greeted by the kids in the morning and had fun high-fiving and taking pictures as they arrived at school. It was a great bicycle safety message they like to share and it is a great community outreach way in which to do so.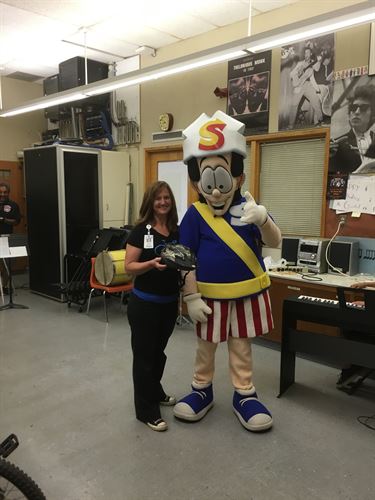 Summer Session and Early Back Programs
Please be on the lookout for applications for Summer Intersession and Early Back programs. These wonderful programs offer an exciting and safe learning environment for your child during the summer months. Summer Intersession will run Monday, June 6th through Friday, June 24th. Early Back will be Monday, July 25th through Friday, August 5th. The hours for both programs is 8:00 a.m. to 12:30 p.m. Please note that lunch will be served but breakfast will not. Summer Intersession will offer lots of physical activity, fun field trips and hands on learning. Early Back will have a fun academic focus. Please have your application for Summer Intersession turned in by Wednesday, May 25th to secure your spot. We will be taking applications for the Early Back program up to the last day of school.
Important Dates
Thursday, May 19th ► Bond Informational Meeting @ 6:00 p.m. in the cafeteria
Thursday, May 26th ► Awards Assemblies for 3rd grade @ 1:30 p.m.
Friday, May 27th ► Awards Assemblies (Kinder a.m. & p.m.) @ 11:10 a.m.; 2nd grade @ 1:45
Monday, May 30th ►NO SCHOOL – Memorial Day
Tuesday, May 31st ► 5th grade promotion @ 9:30 a.m.
Wednesday, June 1st ► 6th grade promotion @ 9:30 a.m.
Thursday, June 2nd ► Last day of school – regular day – Field Day activities
June 6th – 24th ► Summer Camp @ Rosedale – Turn in applications to the office by May 25th!
June 29th – July 18th ► Junior Scientist Camp @ Rosedale – Applications are in the office
July 25th – August 5th ► Early Back @ Rosedale – Turn in applications to the office
*** Thursday, August 18th ► First day of school for the 2016/17 School Year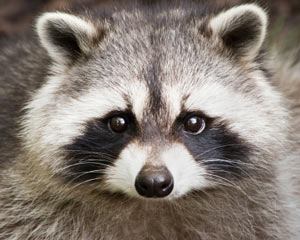 Chico Unified School District Code Red and Emergency Information
Chico Unified School District Links
Bullying Prevention and Intervention
Social Media - Safe Guards
Common Core State Standards
Common Core State Standards for Parents:

Common Core State Standards: